We know that many warmists just don't know what they are taking about. Remember Al Gore claiming the center of the earth was 1 million degrees?
Another classic example I just happened to come across is one by warmist Ramez Naam who runs a blogsite, which had not been known to me previously.
In his latest article he claims that 2013 December Arctic sea ice is less than 2006 summer sea ice, and is less than every summer before that – probably for the last 1000 years! The chart he presents is as follows: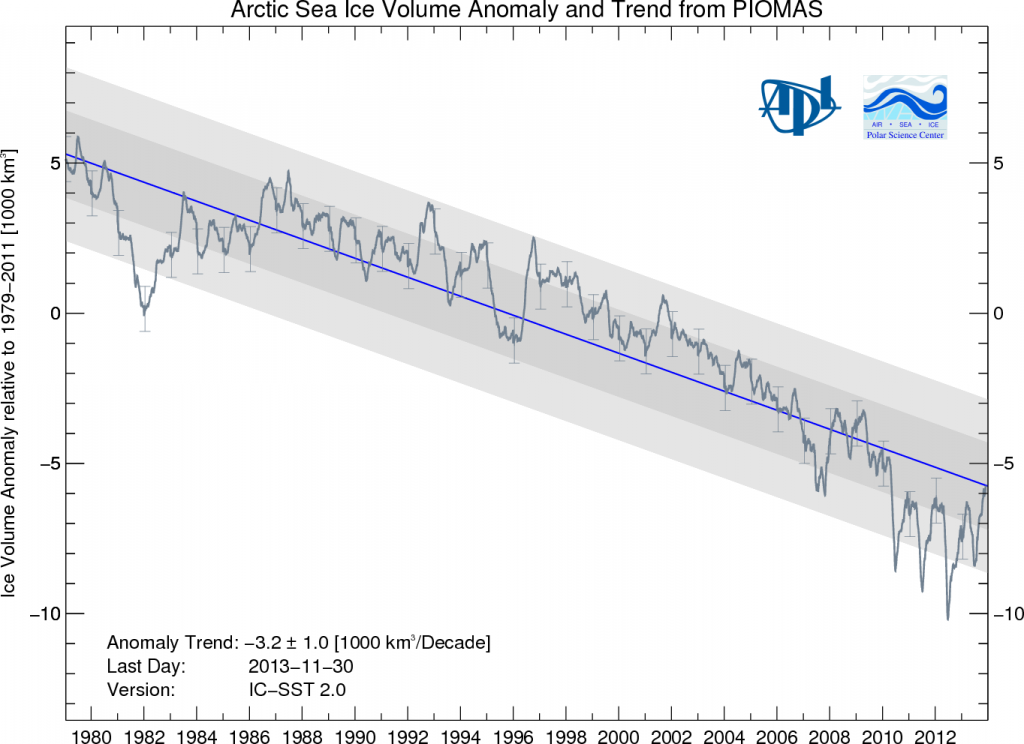 Source: psc.apl.washington.edu/arctic-sea-ice-volume-anomaly/
Do you see how the curve is currently less than what it was in the summer of 2006?
Unfortunately Mr Naam is not able to read a chart correctly and so he draws a totally preposterous conclusion. The chart on which he bases his conclusion is not one that shows absolute Arctic sea ice volume, but one that shows Arctic sea ice volume ANOMALY.
Although it's possible that there have been years in the last 1000 years where summer volume has actually exceeded the current December 2013 volume, there's no way in hell that volume now is less than it was in September 2006.
Naam actually gets invited on television as an expert on climate economics and energy policy, see here for example, has over 5000 Twitter followers, has authored books and won awards.
Honest mistakes can happen, and hopefully Naam will issue a correction.