Global Energy Emissions (during the climate bet)
By Robin Pittwood of the Kiwi Thinker
Having just updated the climate bet, which confirms the lack of recent warming (ie: the 'pause' or 'hiatus' as some call it), I thought next we should take a look at global energy emissions on the same time comparative basis.
For those who are not sure of the background, take a look at a few of my previous posts on 'The Bet' and you'll soon catch on. We are comparing two decades; a past decade Jan 2001 to Dec 2010, and a current decade Jan 2011 to Dec 2020. Of course we are only part way through the current decade, so we're not making a full comparison.
Here's the (very unexciting … even boring) graph.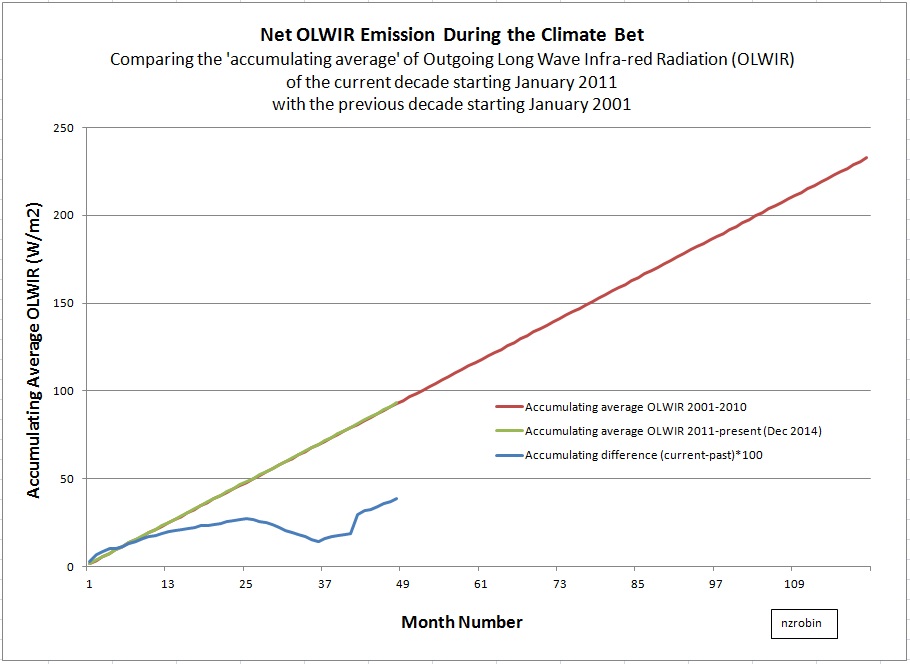 The data is monthly outgoing long wave infrared radiation (OLWIR) provided by the National Oceanographic and Atmospheric Administration (NOAA). I have totalled the energy emitted (OLWIR) in W/m2 units from each 2.5 by 2.5 degree latitude and longitude area to arrive at a global monthly average for each month. Then, in order to show emitting energy over the decade I have divided each monthly figure by 120 (the number of months in a decade) and produced an accumulating total.
The first four years of the comparison shows hardly any difference. The current decade (green line) sits right on top of the past decade (red line). The blue line zooms in on the difference, which is just the difference multiplied by 100. The heat is going into space in very nearly the same quantity as usual.
It is also worth noting (some would think worth highlighting) that the current decade shows slightly higher emissions, while temperature shows slight cooling. Higher outgoing energy, at the same time as a lower temperature, is exactly opposite to what the global warming models tell us will happen.
Also – all that talk of the missing heat hiding in the oceans. It's just scary story. The missing energy is speeding away at 300,000,000 m/s, past Alpha-Centauri and beyond … and will never be seen again.
The spreadsheet workings are available for viewing here:
https://drive.google.com/folderview?id=0BwCJWmtRR6xeOFZSNzVrVW5rcVE&usp=sharing
The link to the source data from NOAA is here:
http://www.esrl.noaa.gov/psd/cgi-bin/db_search/DBSearch.pl?Variable=Outgoing+Longwave+Radiation&group=0&submit=Search