It's a good time to take a look at how global sea ice is doing at both poles. We were told over and over that the poles are the canary in the coal mine for global warming.
If the sea ice melt trend accelerated, we were warned, then the planet was warming rapidly and societies would be wise to prepare quickly for long-term sea level rise.
But nothing has happened at the poles so far.
Like everything related to climate and weather, there's a lot of volatility built into the infinitely complex system, and so short term changes should not be viewed hysterically.
It is important to keep the focus on the long term and to keep a rational head. When that is done, then we quickly see that there is nothing to worry about and that all the climate indicators are all well within the normal range of natural variability.
The following chart shows Arctic sea ice coverage anomaly from the mean since satellite measurements began in 1978:


The above chart, from arctic.atmos.uiuc.edu/cryosphere, shows that the Arctic sea ice was in fact quite stable from 1979 to 2002, trending downward only slightly. Then from 2002 to 2007, a period of only 5 years, the sea ice saw almost all of its melting. Over the past 10 years, however, the Arctic sea ice has been stable, even growing some over the past 6 years.
Indeed a number of scientists are projecting the Arctic sea ice to recover as the Atlantic Multidecadal Oscillation (AMO) enters its negative mode of its typical 50-60 year cycle.
It needs to be pointed out that 35 years is a short period when attempting to derive long term sea ice trends. Let us recall it is known that the Arctic sea ice coverage moves in multidecadal cycles, impacted heavily by natural oceanic cycles.
In the 1950s photos of an ice-free north pole are famous. Old newspaper clippings from the early 20th century quoted scientists who reported "dramatic melting" in the Arctic.
Antarctic accelerating sea ice growth trend
The South Pole has been a real embarrassment for the global warming alarmists who earlier predicted a meltdown. That too has not happened. Instead the Antarctic trend has gone in the totally opposite direction:
Source: arctic.atmos.uiuc.edu/cryosphere
The above chart shows that Antarctic sea ice cover has in fact been accelerating upwards. Over the past several months the sea ice has fallen from its record high levels and is now dead normal – for the first time in more than 3 years!
Looking at both north and south polar sea ice combined, using data from the National Snow and Ice Data Center, we see absolutely nothing to worry about: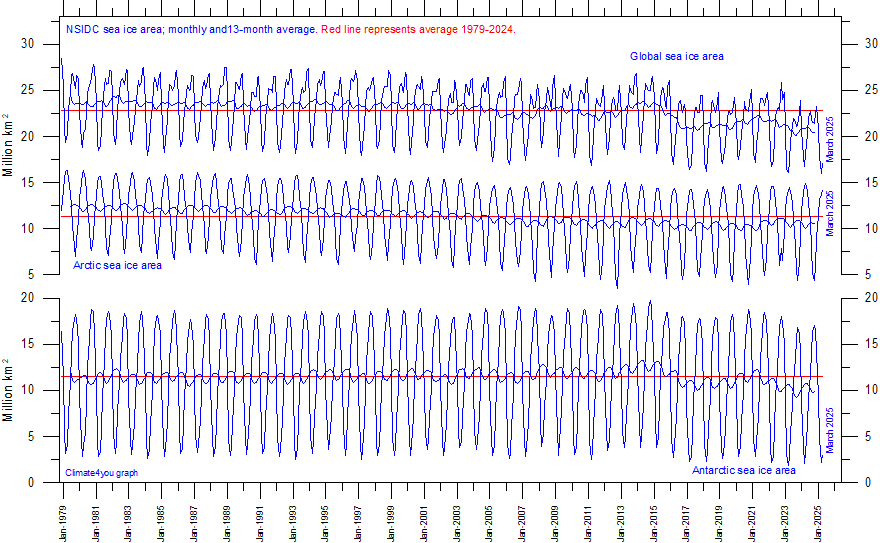 Everything is completely normal and there is no reason to let yourself go into fits of hysteria.