Fellow climate blogger Robin Pittwood at the New Zealand-based Kiwi Thinker here brings us up-to-date on how the current 2011 – 2020 decade is doing temperature-wise.
Many readers are aware of a climate bet made with alarmists Rob Honeycutt and Mr. Know-it-all, Dana Nuccitelli. The skeptics bet the current decade would be cooler or the same as last decade – using the RSS and UAH satellite data, and not the made up surface stuff from NASA.
Robin's latest calculations show that the current decade is (still) slightly cooler than the last one comprising 2001 – 2010.
Of course, as expected, the recent El Nino event closed the gap and will probably even push the current decade to be a bit warmer in the months ahead. The question that remains now is just how strong will the upcoming La Nina be? Will it be strong enough to send the global temperature downward over the next couple of years 2017 – 2019, similar to what we saw back in 2008?
Right now there are a number of indications that this is precisely what is going to happen.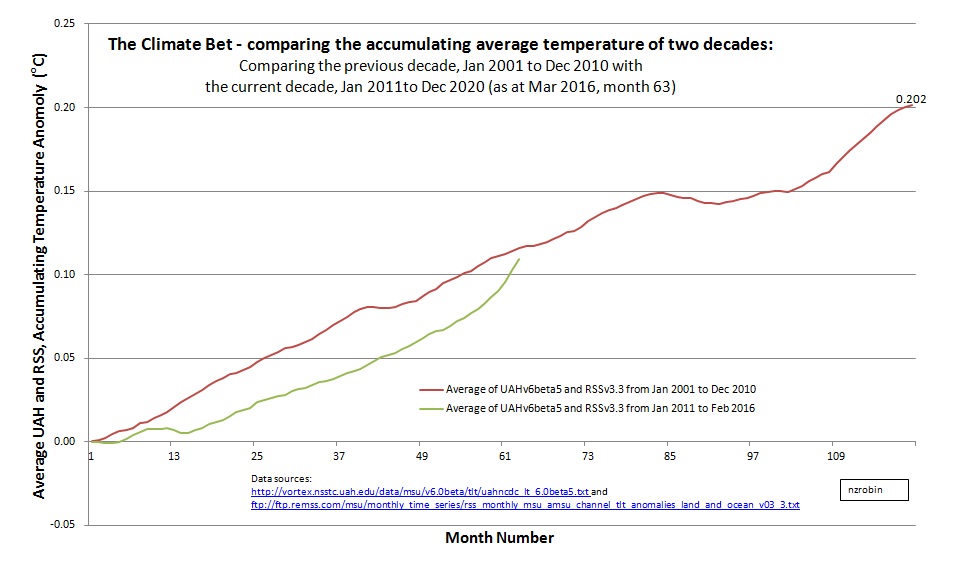 Chart: Robin Pittwood, KiwiThinker. Spreadsheet is available here, UAH v6 Beta 5 data is available here, RSS v3.3 data is available here.
Robin writes:
We're still seeing the effect of the El Nino nudging the green line closer.  Whether the lines cross over, and for how long, is still uncertain.  The El Nino indicators seem to have peaked and are beginning to decline, but as Bob Tisdale described at his blog, 'Every El Nino is different'."
So it looks like we are in a very close race, something that according to the alarmists was not supposed to happen. By now this decade was supposed to be a lot warmer. By the end of the decade it's supposed to be some 0.2°C or 0.3°C warmer.
So even if the warmists did manage to eke out a victory by a few hundredths of a degree, it would be a very hollow one indeed.