Anthropogenic Emissions ≠
CO2 Concentration Changes
For the last 3 years, human CO2 emissions rates have not risen.  In fact, according to the IEA, we burned slightly more fossil fuels in 2014 than we did in both 2015 and 2016.
Despite the lack of growth – even slight decline – in human emissions rates during 2014 – 2016, the atmospheric CO2 parts per million (ppm) concentration grew rapidly – by more than 8 ppm (397 ppm to 405 ppm).
This lack of compatibility between year-to-year human emissions rate changes and year-to-year atmospheric CO2 ppm changes has existed for quite some time.  Dr. Jamal Munshi describes it as a "necessary condition" for there to be a close correlation between annual fluctuations in human emissions and atmospheric CO2 concentrations.   And yet when he statistically analyzed the Mauna Loa record (1959-present) of CO2 concentration changes, he concluded that they did not correlate with the variance in annual anthropogenic emissions.
---
"A n

ec

e

ssa

ry cond

it

ion fo

r

the

th

eo

ry

of anthropogenic

gl

obal warming

is

th

at

there should

be

a close correla

ti

on between an

nu

al fluctuations of atmo

sp

heric CO2 and the an

nu

al rate of anthropog

en

ic CO

2  

emissions. Data on atmospheric CO2 and anthropogenic
em

issions provided by the Mauna Lo

a

measur

in

g station and the CDIAC in the p

er

iod 1959-2011 were studied using

de

trended correlatio

n

analysis to determine whether, net of their common long term upward trends, the rate of cha

ng

e in atmo

sp

heric CO2 is respon

si

ve to the rate of anthropog

en

ic emissions

in

a shorter time scale

fr

om year to year.  … [R]e

su

lt

s

do not indicate a measu

ra

ble year to ye

ar

e

ff

ec

t

of annu

al

 anthropogen

ic

e

mi

ssions on the a

nnu

al rate o

f C

O2 a

cc

umulation

in

the atmosphere."
---
 A user-friendly visualization of this lack of correlation between year-to-year human emissions and atmospheric CO2 changes (for 2006-2016) reveals that (a) there was a rise in emissions from 2007 to 2008, but a significant decline in CO2 ppm change; (b) there was a decline in emissions from 2008 to 2009, but a rise in CO2 concentration; (c) from 2010 to 2014, there was a dramatic rise in emission rates, but an overall flat-to-declining trend in CO2 ppm changes; and as mentioned above, (d) there was a slight decline in emissions from 2014 to 2016, but a pronounced rise in year-to-year atmospheric CO2 (corresponding with the natural El Niño-induced temperature increase during 2015-'16).
---
A Strong Lead-Lag Correlation Between Temperature And CO2 Changes
It has long been recognized by atmospheric scientists that temperature changes are drivers of CO2 concentration variability.  This is especially due to the physical observation that oceans – which have 50 times more dissolved CO2 than the atmosphere does – release more of their vast stores of CO2 during warm years, and they retain more CO2 during anonymously cool years.   For example, Flohn (1982) observed that the oceans contribute almost twice as much to the CO2 concentration change during warm-water years (El Niño) as they do in cool-water years (La Niña), and that the variance in atmospheric CO2 growth is "independent from" anthropogenic CO2 emissions.
---
"The recent increase of the CO2-content of air varies distinctly from year to year, rather independent from the irregular annual increase of global CO2-production from fossil fuel and cement, which has since 1973 decreased from about 4.5 percent to 2.25 percent per year (Rotty 1981)."
"Comparative investigations (Keeling and Bacastow 1977, Newll et al. 1978, Angell 1981) found a positive correlation between the rate of increase of atmospheric CO2 and the fluctuations of sea surface temperature (SST) in the equatorial Pacific, which are caused by rather abrupt changes between upwelling cool water and downwelling warm water ("El Niño") in the eastern equatorial Pacific.  Indeed the cool upwelling water is not only rich in (anorganic) CO2 but also in nutrients and organisms. (algae) which consume much atmospheric CO2 in organic form, thus reducing the increase in atmospehreic CO2. Conversely the warm water of tropical oceans, with SST near 27°C, is barren, thus leading to a reduction of CO2 uptake by the ocean and greater increase of the CO2. … A crude estimate of these differences is demonstrated by the fact that during the period 1958-1974, the average CO2-increase within five selective years with prevailing cool water only 0.57 ppm/a [per year], while during five years with prevailing warm water it was 1.11 ppm/a.  Thus in a a warm water year, more than one Gt (1015 g) carbon is additionally injected into the atmosphere, in comparison to a cold water year."
---
In the undergraduate-level textbook 
Physics of the Atmosphere and Climate
, Dr. Murry Salby affirms the observation that temperature changes are a significant determinant of atmospheric CO2 changes.
"Warming of SST (by any mechanism) will increase the outgassing of CO2 while reducing its absorption. Owing to the magnitude of transfers with the ocean, even a minor increase of SST can lead to increased emission of CO2 that rivals other sources." pg. 546
"The results for the two periods are in broad agreement. Together with the strong dependence of CO2 emission on temperature, they imply that a significant portion of the observed increase in r˙CO2 derives from a gradual increase in surface temperature."  pg. 253
"Surface temperature depends on the atmosphere's optical depth. The latter, in turn, depends on atmospheric composition through radiatively active species. Water vapor is produced at ocean surfaces through evaporation. Carbon dioxide is produced by decomposition of of organic matter. These and other processes that control radiatively active species are temperature dependent." pg 249, 250
"Together, emission from ocean and land sources (∼150 GtC/yr) is two orders of magnitude greater than CO2 emission from combustion of fossil fuel. These natural sources are offset by natural sinks, of comparable strength. However, because they are so much stronger, even a minor imbalance between natural sources and sinks can overshadow the anthropogenic component of CO2 emission." pg. 546
---
Visual representations of the strong lead-lag correlation between global temperatures and CO2 ppm changes are provided below.  According to observations, Humlum et al. (2013) indicate that the change in CO2 concentration "always" follows changes in temperature by 9 to 12 months.
Link to NOAA graph of Mauna Loa CO2 changes
---
Conclusion:
"There exist a clear phase relationship between changes of atmospheric CO2 and the different global temp
erature records, whether

representing sea surface temperature, surface air temperature, or lower troposphere temperature, with changes in the amount of atmospheric CO2 always lagging behind corresponding changes in temperature."
(1) The overall global temperature change sequence of events appears to be from 1) the ocean surface to 2) the land surface to 3) the lower troposphere.
(2) Changes in global atmospheric CO2 are lagging about 11
–

12 months behind changes in global sea surface temperature.
(3) Changes in global atmospheric CO2 are lagging 9.5–

10 months 

behind changes in global air surface temperature.
(4) Changes in global atmospheric CO2 are lagging about 9 months behind changes in global lower troposphere temperature.
(5) Changes in ocean temperatures appear to explain a substantial part of the observed changes in atmospheric CO2 since January 1980.
(6) CO2 released from anthropogenic sources apparently has little infl

uence on the observed changes in atmospheric CO

2, and changes in atmospheric CO2 are not tracking changes in human emissions.
(7) On the time scale investigated, the overriding effect of large volcanic eruptions appears to be a reduction of atmospheric CO2, presumably due to the dominance of associated cooling effects from clouds associated with volcanic gases/aerosols and volcanic debris.
(8) Since at least 1980 changes in global temperature, and presumably especially southern ocean temperature, appear to represent a major control on changes in atmospheric CO2.
---
"[T]he warming and cooling of the ocean waters control how much CO2 is exchanged with atmosphere and thereby controlling the concentration of atmospheric CO2. It is obvious that when the oceans are cooled, in this case due to volcanic eruptions or La Niña events, they release less CO2 and when it was an extremely warm year, due to an El Niño, the oceans release more CO2. [D]uring the measured time 1979 to 2006 there has been a continued natural increase in temperature causing a continued increase of CO2 released into the atmosphere. This implies that temperature variations caused by El Niños, La Niñas, volcanic eruptions, varying cloud formations and ultimately the varying solar irradiation control the amount of CO2 which is leaving or being absorbed by the oceans."
---
"[With the short (5−15 year) RT [residence time] results shown to be in quasi-equilibrium, this then supports the (independently based) conclusion that the long-term (∼100 year) rising atmospheric CO2 concentration is not from anthropogenic sources but, in accordance with conclusions from other studies, is most likely the outcome of the rising atmospheric temperature, which is due to other natural factors.
This further supports the conclusion that global warming is not anthropogenically driven as an outcome of combustion."
---
"The increase rate of atmospheric carbon dioxide for the period from 1980 to 2007 can be statistically explained as being a function solely of the global mean temperature. Throughout the period, the temperature differences seem to have caused differences around a base trend of 1.5 ppmv/year. The atmospheric CO2 increase rate was higher when the globe was warmer, and the increase rate was lower when the globe was cooler. This can be explained by wind patterns, biological processes, or most likely by the fact that a warmer ocean can hold less carbon dioxide. This finding indicates that knowledge of the rate of anthropogenic emission is not needed for estimation of the increase rate of atmospheric carbon dioxide."
---
CO2 Change Also Follows Temperature Change On Long-Term Timescales
In addition to following temperature changes on short-term (year-to-year) timescales, it is well-established in the peer-reviewed, scientific literature that, from cold glacials to warm interglacials, large (+ or – 120 ppm) changes in CO2 concentrations occurred several centuries after temperature changes occurred.   Of course, if CO2 concentration change follows temperature change rather than leads it, the temperature may be viewed as the cause rather than the effect of CO2 variance.
IPCC AR4 (2007): "Atmospheric CO2 follows temperature changes in Antarctica with a lag of some hundreds of years."
Caillon et al., 2003     "The sequence of events during Termination III suggests that the CO2 increase lagged Antarctic deglacial warming by 800 ± 200 years and preceded the Northern Hemisphere deglaciation."
Fischer et al., 1999    "High-resolution records from Antarctic ice cores show that carbon dioxide concentrations increased by 80 to 100 parts per million by volume 600 ± 400 years after the warming of the last three deglaciations."
Monnin et al., 2001     "The start of the CO2 increase thus lagged the start of the [temperature] increase by 800 ± 600 years."
Kawamura et al., 2007    "Our chronology also indirectly gives the timing of the CO2 rise at [glacial] terminations, which occurs within 1 kyr of the increase in Antarctic temperature."
Indermuhle  et al., 2000    "The [CO2] lag was calculated for which the correlation coefficient of the CO2 record and the corresponding temperatures values reached a maximum. The simulation yields a [CO2] lag of (1200 ± 700) yr.
Landais et al., 2013     "[F]rom 130.5 to 129,000 years ago, the rise in atmospheric CO2 concentrations lagged that of Antarctic temperature unequivocally….At mid-slope, there is an unequivocal lead of δ15N [temperature] over CO2 of 900 ± 325 yr".
Schneider et al., 2013    "Furthermore, a  5,000 yr lag  in the CO2 decline relative to EDC [East Antarctica] temperatures is confirmed during the glacial inception at the end of MIS5.5 (120,000 yrs before present)."
Stott et al., 2007     "Deep-sea temperatures warmed by ∼2°C between 19 and 17 thousand years before the present (ky B.P.), leading the rise in atmospheric CO2 and tropical–surface-ocean warming by ∼1000 years."
---
Lack Of Correlation Between Fossil Fuel Emissions And CO2 Airborne Fraction
According to models, the fraction of accumulated CO2 in the atmosphere from fossil fuel emissions (the airborne fraction) should understandably correlate with changes in fossil fuel emissions.  This correlation has not been observed.  In fact, as climate activist and former NASA director Dr. James Hansen indicates, the airborne fraction from fossil fuels (blue line) sharply declined after 2000 just as fossil fuel emissions (red line) growth rates doubled from 1.5% per year to 3.1% per year during 2000-2011.  In other words, the trajectories went in opposite directions than expected (models) after 2000, and they didn't correlate between 1960-2000 either.
"However, it is the dependence of the airborne fraction on fossil fuel emission rate that makes the post-2000 downturn of the airborne fraction particularly striking.  The change of emission rate in 2000 from 1.5% yr-1 [1960-2000] to 3.1% yr-1 [2000-2011], other things being equal, would [should] have caused a sharp increase of the airborne fraction"   – Hansen et al., 2013
---
According to Knorr (2009), the lack of a trend in the airborne fraction extends all the way back to 1850.
---
"[T]he trend in the airborne fraction [ratio of CO2 accumulating in the atmosphere to the CO2 flux into the atmosphere due to human activity] since 1850 has been 0.7 ± 1.4% per decade, i.e. close to and not significantly different from zero. The analysis further shows that the statistical model of a constant airborne fraction agrees best with the available data if emissions from land use change are scaled down to 82% or less of their original estimates. Despite the predictions of coupled climate-carbon cycle models, no trend in the airborne fraction can be found."
---
The Incompatibility Of Accepted Holocene CO2 Concentrations And Temperature-Induced CO2 Change
One of the most compelling reasons to agree that there is something unusual (and thus anthropogenic) about modern CO2 levels of over 400 parts per million is to compare current CO2 concentrations to the much lower values for the geologic past (that roughly varied between 180 ppm and 300 ppm).   Indeed, if temperature changes drive CO2 changes, and generally not the other way around, then the temperature records for the last 10,000 years should at least generally co-vary with accepted CO2 concentration values.  They don't.   During the Holocene (the last 10,000-12,000 years), global-scale surface temperatures rose and remained multiple degrees warmer than now during the very same time periods that CO2 concentrations were at their lowest (~255-260 ppm) of the epoch.  To reiterate, as the agreed-upon Holocene CO2 values rose, temperatures declined, and as the agreed-upon Holocene CO2 values declined, temperatures rose.   This inverted paleoclimate record (as illustrated below and in the link above) is incompatible with the temperature-rise-leading-CO2-rise conceptualization.
---
---
Recognizing this "major inconsistency" in the paleoclimate record, Dr. Salby suggests in his textbook that the CO2 values for the past are likely to be flawed, as they depict "virtually no change" in atmospheric CO2 from warm periods to cool (or cool to warm) periods.
---
"The resemblance between observed changes of CO2 and those anticipated from increased surface temperature also points to a major inconsistency between proxy records of previous climate. Proxy CO2 from the ice core record indicates a sharp increase after the nineteenth century. At earlier times, proxy CO2 becomes amorphous: Nearly homogeneous on time scales shorter than millennial, the ice core record implies virtually no change of atmospheric CO2.  According to the above sensitivity, it therefore implies a global-mean climate that is "static," largely devoid of changes in GMT and CO2. Proxy temperature (Fig. 1.45), on the other hand, exhibits centennial changes of GMT during the last millennium, as large as 0.5–1.0◦ K. In counterpart reconstructions, those changes are even greater (Section 1.6.2). It is noteworthy that, unlike proxy CO2 from the ice core record, proxy temperature in Fig. 1.45 rests on a variety of independent properties. In light of the observed sensitivity, those centennial changes of GMT must be attended by significant changes of CO2 during the last millennium. They reflect a global-mean climate that is "dynamic," wherein GMT and CO2 change on a wide range of time scales. The two proxies of previous climate [global temperatures and CO2 concentration values] are incompatible. They cannot both be correct." pg. 254
---
Scientists Challenge The 'Consensus' Record Of Pre-1950s CO2 Concentrations
During the 1950s to 1980s, it was common for scientists' to conclude from ice core measurements that CO2 concentrations varied widely and rapidly during the last 10,000 years, rivaling and even exceeding modern values and rates.  Jaworoski (1997) indicates that published scientific records of Holocene CO2 levels "ranged from 160 to about 700 ppmv, and occasionally even up to 2,450 ppmv".  For example, as recently as 1982 (Flohn), it was still acceptable to say that CO2 concentrations reached "350 ppm (perhaps 400 ppm) during the Holocene warm epoch 6-8 [thousand years] ago."
However, it was during the early- to mid-1980s that the modern version of anthropogenic global warming (AGW) theory had begun to take shape.  More and more scientists embraced the conceptualization of human-caused warming (after having spent the 1970s dabbling in global cooling).  A requisite construct for AGW's viability was that the modern CO2 concentration needed to be unusual and unprecedentedly high relative to the pre-industrial era so that the modern concentrations could be linked to the rise in anthropogenic CO2 emissions.  Consequently, after about 1985, all the high CO2 ice core measurements obtained and reported in scientific journals were removed from the record.  Only the low CO2 concentration measurements from the Holocene were deemed "correct" and included in canonized reconstructions.  In this way, a low and steady CO2 concentration from the past could be directly compared to a hockey-stick-style spike in the modern era, providing visual evidence that humans were dramatically altering atmospheric CO2 levels.
---
"The ice core data from various polar sites are not consistent with each another, and there is a discrepancy between these data and geological climatic evidence. One such example is the discrepancy between the classic Antarctic Byrd and Vostok ice cores, where an important decrease in the CO2 content in the air bubbles occurred at the same depth of about 500 meters, but at which the ice age differed by about 16,000 years. In an approximately 14,000-year-old part of the Byrd core, a drop in the CO2 concentration of 50 ppmv was observed, but in similarly old ice from the Vostok core, an increase of 60 ppmv was found. In about ~6,000-year-old ice from Camp Century, Greenland, the CO2 concentration in air bubbles was 420 ppmv, but it was 270 ppmv in similarly old ice from Byrd, Antarctica. … In the air from firn and ice at Summit, Greenland, deposited during the past ~200 years, the

CO2 concentration ranged from 243.3 ppmv to 641.4 ppmv

.  Such a wide range reflects artifacts caused by sampling, or natural processes in the ice sheet, rather than the variations of CO2 concentration in the atmosphere. Similar or greater range was observed in other studies of greenhouse gases in polar ice."
"The failure to resolve the notorious problem of why about 30 percent of man-made CO2 is missing in the global carbon cycle, based on CO2 ice core measurements, suggests a systematic bias in ice core data. It is not possible to explain the ice core CO2 record in terms of a system with time-invariant processes perturbed by a combination of fossil fuel carbon release, CO2-enhanced biotic growth, and deforestation."
"Until 1985, the published CO2 readings from air bubbles in pre-industrial ice ranged from 160 to about 700 ppmv, and occasionally even up to 2,450 ppmv. After 1985, high readings disappeared from the publications. To fit such a wide range of results to the anthropogenic climatic warming theory, which was based on low pre-industrial CO2 levels, three methods were used: (1) rejection of high readings from sets of preindustrial samples, based on the credo: "The lowest CO2 values best represent the CO2 concentrations in the originally trapped ice"; (2) rejection of low readings from sets of 20th century samples; and (3) interpretation of the high readings from pre-industrial samples as representing the contemporary atmosphere rather than the pre-industrial one."
"Neftel, et al. reported in 1982 rather high median CO2 concentrations in the preindustrial ice core from Byrd, Antarctica, of about 330 and 415 ppmv, with maximum value reaching 500 ppmv.  However, in 1988, in the second publication on the same core, Neftel et al. did not show these high readings; the highest concentration reported was 290 ppmv, in agreement with the global warming theory."
"Pearman, et al. [1986] "on examination of the data," rejected 43 percent of the CO2 readings from Law Dome, Antarctica core … because they were higher or lower than the assumed "correct" values. Thus, they concluded a value of 281 ppmv CO2 for the pre-industrial atmosphere."
---
"In few fields considered to be science-based has there been such a high degree of polarization and refusal to consider alternate explanations of natural phenomena as in climate change at present."
"The scenario seems to be that between 1985 and 1988, a decision was made to present pre-1958 CO2 concentrations with no humps or dips and to proclaim a pre-industrial level of 280 ppm."
"Compared with the so-called pre-industrial levels of 280 ppm, a level of 410 ppm was found in 1812, rising to 450 ppm in 1825. There were levels of 370 ppm in 1857, and 4 sets of measurements gave 350–415 ppm around 1940 (Figure 10). From 1870–1920 values remained within 295–310 ppm. From 1955–1965 the values were 325 ppm. Beck chose the most carefully done assays for this graph. One was from Poona, India. An effort not described by Beck was one of 350 determinations near Point Barrow, Alaska, from 1947–1949, with a mean result of 420 ppm (Hock et al., 1952)."
"The CO2 levels found at Mauna Loa range from 315 ppm in 1957 to 385 ppm in 2007, a period of 50 years. They are similar on Antarctica, showing good mixing of the atmosphere. Since there was a bigger rise from 312 to 415 ppm from 1927–1944 (27 years), shown by chemical assays as described above (Figure 10), there should be no reason for alarm at present. The start of the infrared data in 1958 showed a CO2 concentration that was 12 ppm lower by NDIR assay than the best chemical data of the period. The chemical data are very consistent with each other. This discrepancy has never been resolved."
"From 0–60° north, the period from 1905–1940 showed about 1 °C of warming, then steady or dropping temperatures. The 60–70° north record showed about 1.8 °C of warming from 1922–1960, with sinking temperatures thereafter (Kushnir, 1994). This is the reason why the chemical assays registered a large increase in atmospheric CO2, from 295 ppm in 1885 to 440 ppm in 1944 (Figure 10). Ocean cooling of  ~0.6 °C from 1940– 1970 (Kushnir, 1994) brought CO2 levels down for a while to 325 ppm from 1955–1965 (Figure 10)."
---
Every so often, though, measurements of past CO2 levels that challenged the agreed-upon "correct" values were allowed to slip past the gatekeepers.  For example, Wagner and colleagues (1999) published a paper in Science indicating that CO2 concentrations naturally rose by 65 ppm in less than a century during the Holocene, which is similar to today's rates (i.e., CO2 rose by ~70 ppm between 1915 and 2005).
---
Century-Scale Shifts in Early Holocene Atmospheric CO, Concentration
"The initial decrease of the SI in the Friesland phase [~11,400 years ago] suggests that atmospheric CO2 concentrations rose by ∼65 ppmv in less than a century. … 

Our results falsify the concept of relatively stabilized Holocene CO2 concentrations of 270 to 280 ppmv until the industrial revolution

. Si-based C02 reconstructions may even suggest that, during the early Holocene, atmospheric CO2 concentrations that were >300 ppmv could have been the rule rather than the exception."
---
Decadal-Scale Non-Correlations Between CO2 Changes And Human Activity, Temperature
The non-correlations between the accepted CO2 concentrations and human activity not only occur on a year-to-year basis, they may also occur for decades at a time.
For example, between 1938 and 1950, yearly human emissions rose from 1.14 GtC (gigatons carbon) per year to 1.63 GtC per year.  Total  accumulated fossil fuel emissions growth for the period amounted to 17.4 GtC.  And despite this volume of emission, the atmospheric CO2 concentration did not change throughout the entire 12-year period, remaining steady at 311 ppm.
---
---
According to the IPCC, our radiative influence on the planet began in the year 1750.  And yet between 1750 and 1875, the growth in human CO2 emissions was effectively undetectable.  During the same period, the accepted values for atmospheric CO2 grew by nearly 12 parts per million, or at "10 times the rate of cumulative anthropogenic emissions".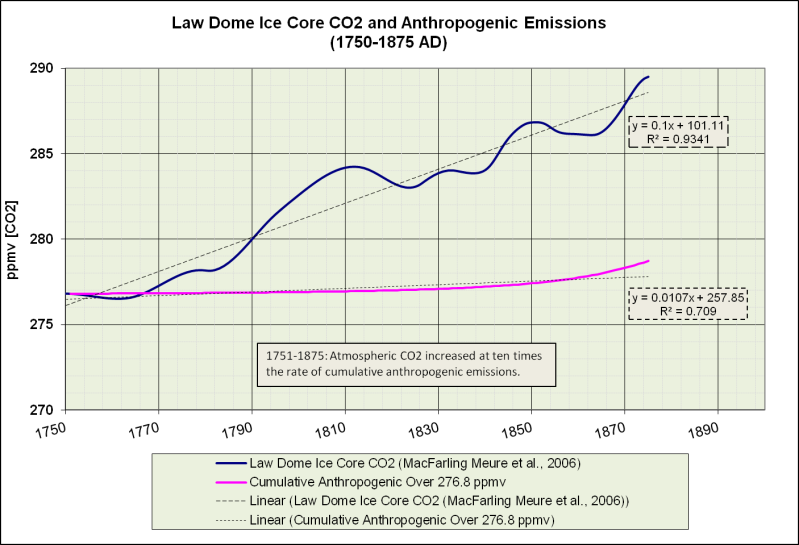 ---
A glaring lack of correlation between the accepted CO2 concentration and global temperature change spanned 3 decades during the middle of the 20th century.  From 1940 to 1970, world temperatures fell.   During the same period, both human CO2 emissions and accepted atmospheric CO2 concentration levels grew rapidly, rendering a long-term inverse correlation.
---
---
Non-Correlations Rejected, Apparent Correlations Embraced
There are several inconsistencies and incompatibilities with the currently-rendered link between human CO2 emissions and  atmospheric CO2 concentration.
To summarize:
(a) There is a lack of year-to-year correlation between human CO2 emissions and atmospheric CO2 concentration changes, whereas there is an observed correlation between year-to-year (and long-term) temperature changes leading changes in CO2 concentrations.
(b) Defying models, there has not been an observed correlation between the airborne fraction and fossil fuel emissions, and the trajectory for both substantially diverged after 2000 (the airborne fraction fell as fossil fuel emissions rose rapidly).
(c) There is an inverse correlation between the accepted CO2 values for the Holocene and temperature changes for the Holocene.  For example, CO2 concentration rose as temperatures cooled during the Little Ice Age period (1300 to 1900 CE).
(d) During the last few hundred years, there have been multi-decadal periods in which human CO2 emissions and both the accepted atmospheric CO2 concentration and global temperature have been non-correlated or inversely correlated (i.e., 1938-1950, 1750-1875, 1940-1970).
These inconsistencies and incompatibilities and non-correlations are routinely dismissed by those who attribute all or nearly all of the increase in atmospheric CO2 to human activity.  Why?  Because there is a correlation between the post-1970s growth in human CO2 emissions and the rise in atmospheric CO2 (and global temperatures).
Correlations that fit the narrative are embraced – and correlation is often facilely assumed to be the equivalent of causation.  The non-correlations and incompatibilities are simply dismissed as unimportant or immaterial.
For those of us who question the correlative and especially the causal link between human emissions and atmospheric CO2 concentrations, these inconsistencies and incompatibilities need to be thoroughly addressed rather than dismissed.