Way back in February, Global Weather Oscillations (GWO) veteran meteorologist David Dilley predicted that the 2017 Atlantic hurricane season would be "the most dangerous and costliest in 12 years for the United States."
Photo: David Dilley, GWO
In the wake of Harvey, and with an eye on the now growing threat posed by Irma, that prediction is emerging to be spot on.
Irma takes aim. Chart source (1 Sept 2017 9:00 CET): earth.nullschool.net/.
Dilley, a 40-year veteran and a former NOAA meteorologist, said the season would be influenced by a Climate Pulse Hurricane Enhancement Cycle – which is characterized by the lack of El Niño or La Niña conditions. Recently the El Nino Southern Oscillation (ENSO) has been hovering near neutral territory.
Ideal oceanic conditions
Dilley based his February prediction on natural cyclic factors, namely on the fact that ocean water temperatures would "continue to run warmer than normal across most of the Atlantic Basin and especially in the Caribbean region and the Atlantic near the United States" this year, which would "make conditions conducive for tropical storms and/or hurricanes forming and/or strengthening close to the United States".
So far that too has been spot on as well. This scenario has also been supported by Joe Bastardi of Weatherbell Analytics. Bastardi, also a 40-year veteran meteorologist, points to similarities with hurricane patterns of the mid 20th century.
120-year trend clearly downward
Hurricane activity as a whole has been on a downward decline over the past 120 years, according to the NOAA – something that often gets no mention in the media.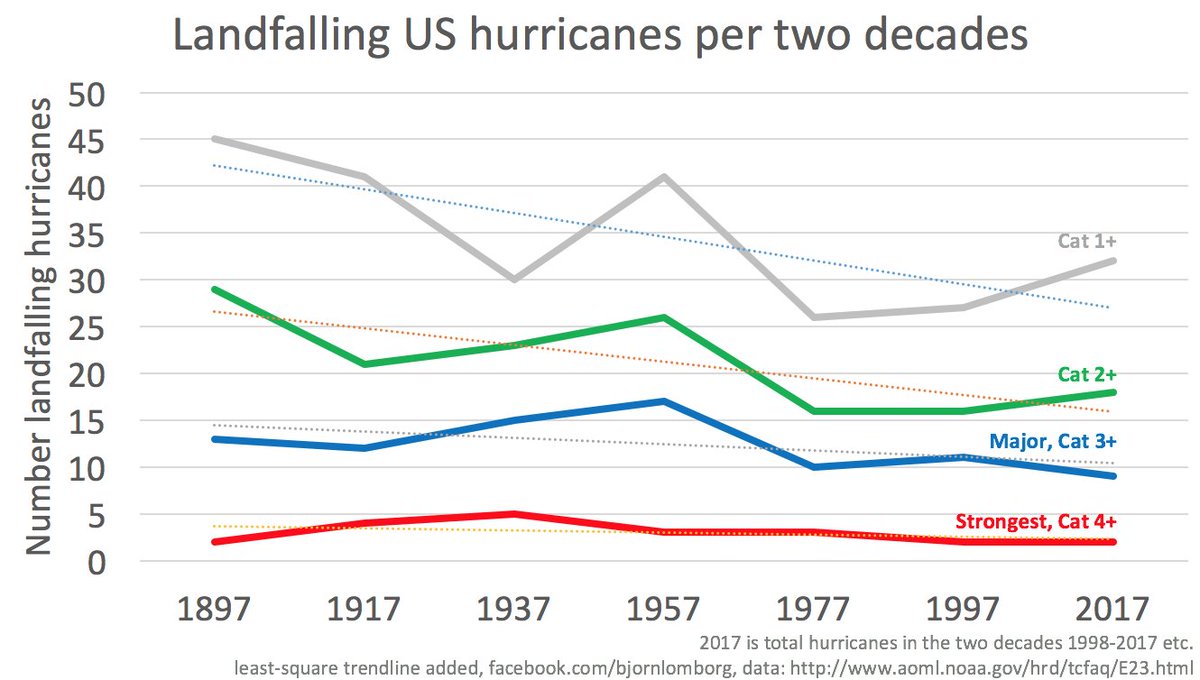 Dilley also predicted that the Bermuda-Azores High Pressure Center would be weaker this summer, and thus would allow "more named storms to maintain strength – or strengthen as they move from east to west across the Atlantic toward the United States" – a pattern that Irma is following to a tee.
In his February forecast he wrote that the United States would have the potential for 6 named storms making landfall, the most most since 2005.
"Global warming has no influence"
In an e-mail response to NoTricksZone on whether hurricane Harvey's intensity was related to global warming,  Dilley wrote:
Global warming has no influence – we have had major impact hurricanes in the past when it was cooler – it is all cyclical.
Dilley also said that Harvey will with very high likelihood not be the last to strike the USA, saying that a number of hurricane zones need to prepare for the worst this season.
Perfect conditions for Irma
Concerning Irma the 40-year veteran meteorologist says that the hurricane "is in an area having perfect conditions" and that he expects "4 major hurricanes in 2017 due to a stronger hurricane cycle year that occurs in conjunction with warm Atlantic Ocean water following a period that did not have a La Niña – less wind shear and good positioning of the Bermuda high".
Texas hurricane hiatus is over
Dilley had predicted that Texas had a "good shot at coming out of their quiet hurricane cycle" as -there have been 7 quiet periods for Texas during the past 130 years, writing that "the typical quiet period lasts 8 to 10 years and 2017 was year 9 since their last hurricane".
Florida and New England are due as well
He warns that "other prediction zones such as the peninsula of Florida and New England are likewise on the verge of breaking out of their quiet periods" and that they are "all cyclical based on electromagnetism of the earth-moon-sun gravitational cycles influencing the Bermuda high, ocean temperatures via an El Niño or no El Niño and individual hurricane landfall cycles for each zone." He sums up:
Bottom line – Irma will be a major United States impact hurricane and not the last land-falling hurricane of the season."
2018 will be a quieter season?
One bright note: Dilley believes that the 2018 season will be less harsh, in part because of more favorable natural ocean cycle effects in the Pacific and Atlantic.
For Dilley, hurricanes are part of the natural weather and climate cycles and that it is something we'll have to relearn getting used to. In the early 20th century things were much worse than what we've grown accustomed to seeing over the past decade.