First vigorous support
followed by cheers
But then came silence
and then denial,
Followed by downplaying
Today, outrage is exploding
That's the story of Germany's attempted Energiewende (transition to renewable energies).
The mood has turned 180° since the early days. Once welcome, Germany's Energiewende is now being met with shock and outrage as the envoiornmental destruction takes on unforeseen dimensions.
Even German envivonrmentalists, once huge proponents of renewable energies like wind and solar, are no longer able to take it any more as the Energiewende ravages the country's environment and turns the notion of environmental protection into a fiasco.
Hat-tip: Alessandra Eck and Martina Knoedl at FB.
Now that Germany's Energiewende has been in full swing for a number of years, many leading environmentalists are in a state of shock as huge areas of the country are being deforested and landscapes disfigured to make way for hundreds of wind turbines.
Environmentalist Georg Etscheit is a regular contributor at Germany's leading climate alarmism site, Klimaretter, and he as well has had enough. Etscheit will be releasing a book in early November.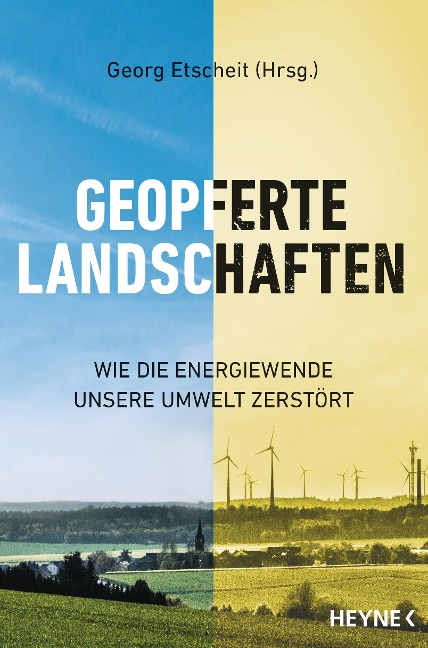 New, soon-to-be released book slams Germany's Energiewende: "Sacrificed Landscapes – How the Energiewende Is Destroying our Landscapes." Image: Heyne Verlag.
The title of the book: "Sacrificed Landscapes – How the Energiewende Is Destroying our Landscapes."
In the book's promotion video here, a number of Germany's leading environmental experts are seen denouncing Germany's Energiewende, as they are aghast at what is going on.
Prof. Dr. Niko Paech, sustainability scientist, says:
What's awful about the destruction of the landscapes and the government is that all of it has a legitimization."
and
The German Energiewende has become a justification for destroying our last remaining natural landscapes."
Dr. Gerhard Gronauer, pastor:
Climate protection that uses technical means against nature is a contradiction in itself."
"Greatest fraud project"
Jörg Rehmann, journalist and author:
If we want to survive on this planet, we need an Energiewende. But what the policymakers have made of it is not an Energiewende, rather it is the greatest fraud project since the end of the second world war."
Prof. Dr. Niko Paech, later adds:
Science is legitimizing a rampage against nature. We destroy the landscape while we claim it is serving the ecology. It's a cannibalism by the measures. Climate protection is the aim that justifies the means to destroy all other remaining environmental media."
Jörg Rehmann adds:
Serious science has long proven that the Energiewende cannot in any way reach its targets. Society has to bear billions in costs, already energy prices are exploding, and policymakers are driving us further into a nuthouse in the clouds."
Image cropped from promotion video, Heyne Verlag.
Rehmann continues and says the proponents are decieving the public into thinking it's a green free-market capitalism. Paech reminds that despite all the destruction and money, no CO2 has been saved.
"No climate goals have been reached despite the billions invested," says Rehmann.
Unprecedented amount of cronyism
Rehmann piles on even more:
Under the guise of a planned economy, there is now an unprecedented amount of cronyism and wasted money. It is shocking how far into a legal gray zone communities have gone with respect to the permitting in natural areas. It really reeks of corruption."
Prof. Dr. Werner Nohl says that wind parks have no place in natural environments.
At the end Etscheit calls for an immediate stop to the "landscape and nature-destroying project" and that a whole new discussion needs to be taken up again.
My feeling is that the zeitgeist is right, and this book will do very well. It needs to be written in English (soon!) so that it can reach an international audience and hopefully help prevent the German blunder from being repeated elsewhere. -PG