And here I don't mean the frosty atmosphere created by fat boy, Big Kim in NoKo.
Our skeptic in Japan, Kirye, informs us at Twitter that Tokyo saw its coldest August 11 in almost 60 years. She writes:
Not only Japan, Western Europe and USA are seeing cold weather, but New Zealand as well has been having unusually cold weather. According to the sott.net here, "New Zealand is currently experiencing its coldest winter since 2009" as the island country has been hit by heavy rainfall.
Typhoons trending downward over past 66 years
Kirye also brought up another interesting fact which once again contradicts all the climate alarmism hysteria. According to the Japanese Meteorological Association (JMA), the number of typhoons since 1951 has been trending DOWNWARD.
You can view a much better image here.
Meanwhile the number of typhoon landings for Japan is dead flat. There's been no change despite the rise in atmospheric CO2 concentration.
All this is right in line with hurricane activity in the Atlantic, and especially those hitting the USA:
The above graph shows the number of hurricanes that formed in the North Atlantic Ocean each year from 1878 to 2015, along with the number that made landfall in the United States. The orange curve shows how the total count in the green curve can be adjusted to attempt to account for the lack of aircraft and satellite observations in early years. All three curves have been smoothed using a five-year average, plotted at the middle year. The most recent average (2011–2015) is plotted at 2013. Source: here.
Global tropical cyclone activity falling over past 25 years
Tropical storms as measured by the Accumulated Cyclone Energy (ACE) globally also shows no trend, and thus flat out contradict claims that high CO2 concentrations in the atmosphere lead to higher cyclone activity: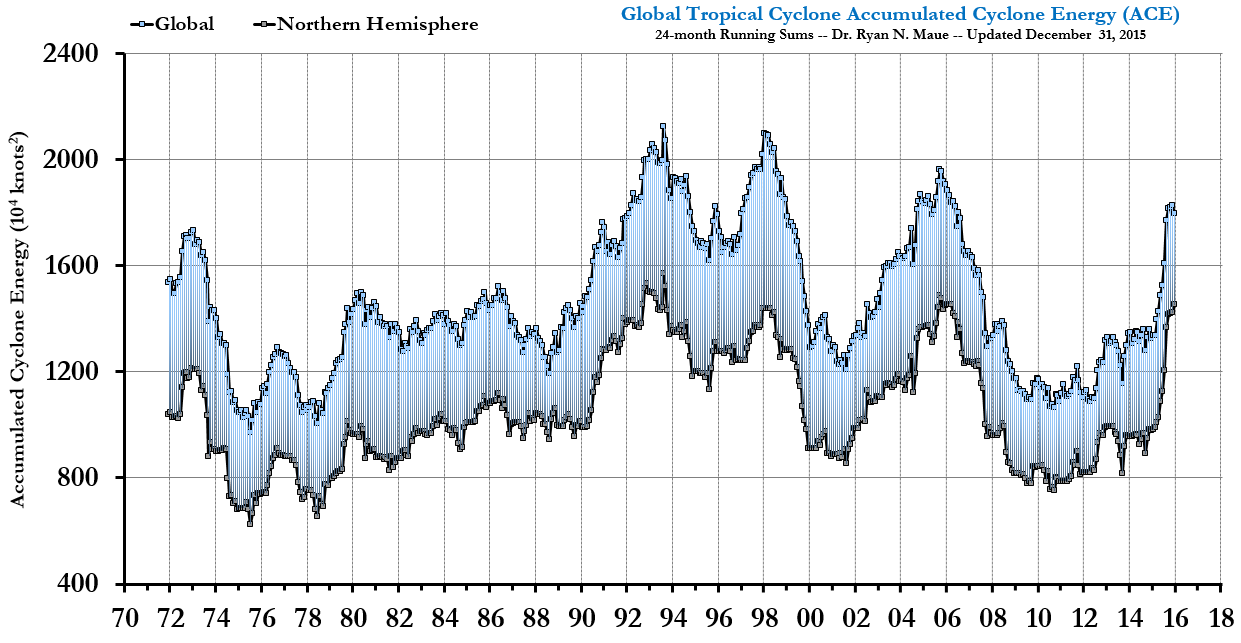 Seasonal global accumulated cyclone energy (ACE) from 1972 – 2015. Black dots are for the Northern Hemisphere only. Each dot represents a 24 month running sum. Source of chart: Atmo 336.
If anything, the trend for the past 25 years has been significantly downward. Overall this all tells us that cyclone activity is linked far more to ocean cycles than to trace greenhouse gases – and is so by one or two orders of magnitude.