Paleoclimate data still spotty and incomplete, leaving climate models vague, uncalibrated and filled with uncertainty
Paleo-climatological data, used for the reconstruction of past climate from proxy records such as ice cores, tree rings, sediment cores etc., have not had adequate geographical coverage.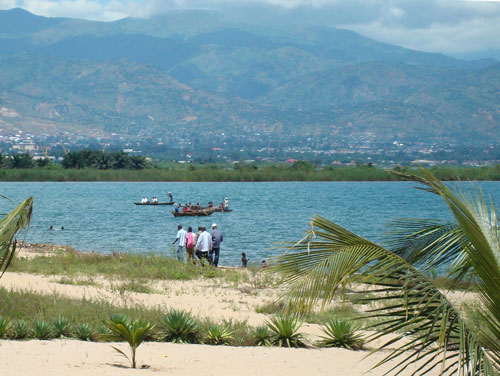 Lake Tanganyika, Tanzania, where a sediment core was extracted. Credit: Andreas31, CC BY-SA 3.0.
For example although the Medieval Climate Anomaly has also been well documented in other parts of the world, there has been little data when it comes to the Arabian Peninsula and the African continent, which comprise about one quarter of Earth's land surface.
Too often scientists reconstructing past climates have been overly eager in drawing far-reaching conclusions based only a few datasets, and attempted to adventurously apply them to neighboring regions or even globally.
Climate Anomaly in Africa and Arabia as well
Now a new paper published on Eos.org here by Lüning et al. attempts to fill this data chasm. Their publication "correlated and synthesized the findings of 44 published paleotemperature case studies" from across the Afro-Arabian region and mapped the resulting trends of the Medieval anomaly's central period of about 1000 to 1200 CE.
The paper is titled: "Warming and Cooling: The Medieval Climate Anomaly in Africa and Arabia".
"Uncalibrated" and "vague" models
"Enormous data gaps exist," wrote Lüning in an e-mail. "A high impact study program is needed to close these gaps. Paleoclimate information is essential to validate climate models, which otherwise are not calibrated and remain vague."
According to their findings, paleotemperature reconstructions from these published case studies show "the Afro-Arabian region experienced climate perturbations, including an extended period of anomalously warm conditions, during medieval times. Because this Medieval Climate Anomaly represents the closest analogue to modern warming, it defines a crucial baseline by which modern postindustrial climate trends can be compared."
Lüning wrote NTZ:
This work is based on a large numbers of valuable paleoclimate studies. We have mosaiced these data points together and found that the Medieval Climate Anomaly was characterized by warming in most of Africa and Arabia, therefore justifying the term "Medieval Warm Period" for the African land area. An exception was the southern Levant where its got cooler."
In a nutshell, the findings suggest the majority of onshore Afro-Arabian sites also experienced warming during the Medieval Climate Anomaly, and thus the warming was not just a phenomenon confined to the North Atlantic and Europe, as some scientists have tried to suggest.
Outstanding resource
Lüning has spent years researching and compiling paleoclimate data, and as a result has produced a "Climate Reconstruction Map of the Medieval Warm Period".
Link to solar and oceanic cycles
In some of the records in the newly published study the researchers found that cold spikes corresponded with periods of low decreased solar activity or declining ocean cycles. thus suggesting that solar forcing and changing ocean circulation are the most likely causes of medieval era climate change.
Lüning added:
Climate patterns never cover the whole globe, therefore it is important to first map out trends and understand the pattern distribution. Otherwise the meaning of purely mathematically stacked data series remains unclear."
This study represents a step toward globally characterizing the Medieval Climate Anomaly, an improved understanding of which will help scientists refine global climate models and improve hind-casting.
Read more at Research Spotlight.