Winter has not even officially arrived, but already large areas of the northern hemisphere are seeing "historic snowfalls", frigid temperatures and even avalanche alarms.
The Northern Hemisphere has certainly caught a major cold, one certainly not caused by the human CO2 virus. Instead of fever, parts of the northern hemisphere are in hypothermia!
Alarmists, media desperate
Though global warming scientists will never admit it, they are really surprised and stunned. All that is left for them is to make up some cockamamie warming-causes-cold explanations and hope there are enough severely stupid among the media and masses to believe it.
"United States — Rewrite the Record Books"
Beginning in North America, "sub-zero temperatures are now blasting" millions of Americans following "the three historic snowstorms which buried parts of the U.S. last month," reports weather site electroverse.net here.
Electroverse writes that "lows throughout the week will be more like January temperatures" with readings below zero for many U.S. states and "temps down into the teens are even forecast as far south as Texas." Yesterday, 97 records toppled.
"It's a big deal," Electroverse writes in its headline.
Solar activity suspected
It's not the sort of thing we are supposed to be expecting from a "warming planet".  Some climate experts blame natural factors, like solar activity, for the cold, and that these warnings have long been known since the sun has entered a new period of calm.
Freeze watches and warnings also extend as far south as Florida. And it's only early November. And don't expect to see many FFF activists to show up at rallies protesting hot weather any time soon.
Polar Bear Science site here also reports that the Hudson Bay in Canada has started freezing up earlier than normal three years in a row!
Europe starting to get clobbered by snow, 2m in Alps
Meanwhile cold has also spread across Europe, though not quite as brutal as what we've been seeing across North America.
In central Europe, the Austrian online heute here reports that "huge amounts of snow" are on the way for the Alps. German site Wetteronline.de reports here of "new, severe snowfalls in the Alps" with "up to two meters of fresh snow are possible in places up to the weekend" in Switzerland, Austria and Northern Italy, "This is good news for winter sports enthusiasts – but the danger of avalanches is increasing."
Biggest November snowstorm in 40 years
Even global warming child activist Greta Thunberg's Sweden is getting hard hit by extreme cold and snow. Electroverse reports the Nordic country is suffering "its biggest November snow storm in 40 years."
On November 10th, Mika tweeted that temps in northern Sweden fell 10 -34.5°C.
Today is the coldest morning so far during the ongoing winter season:

-34.5°C in Sweden, -31.1°C in Norway and -30.6°C in Finland (not shown on the map). pic.twitter.com/PoH2Ddnde4

— Mika Rantanen (@mikarantane) November 10, 2019
Most snow in 60 years
The German Ruhrkultur site reports how also Finland just saw "the coldest autumn temperature and the highest snow depth in at least 60 years" and that " the temperature in Enontekiö, a municipality in Finnish Lapland, dropped to 28.2°C on Tuesday 5 November."
Deepening cold across Siberia as well
"On November 11 in Yakutia, the daily temperature never rose above −30°C (-22F)," reported SOTT site here. "Some parts of Siberia were even colder: In Evenkia and the northern regions of the Krasnoyarsk Territory, the temperature dropped to −41 … −44°C."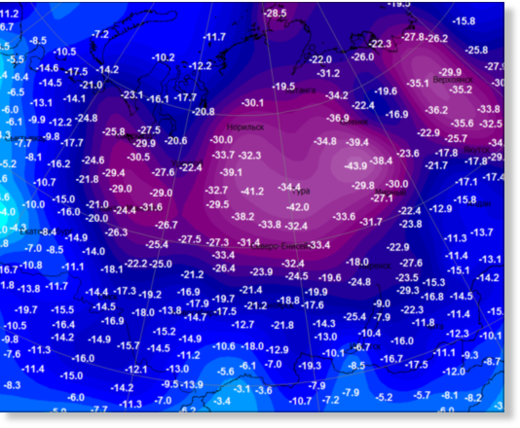 SOTT comments (sarcastically): "I wonder how much ice will melt at −44°C (-47F).
With all the early winter weather, it's ridiculous to claim the globe is burning up. So it's no wonder the alarmists have taken their climate ambulance to the far side of the globe, NSW Australia, and kept their narrow focus on brush fires.
Hat-tip: Yota at Twitter