By Kirye
Data have been showing that Japan has been seeing a warming hiatus going back 20 years, and at many locations, even 30 years. This is the case when using the unadjusted data from the Japan Meteorological Agency (JMA)
The meteorological autumn has ended and we can plot a sampling of the latest mean November and autumn temperatures for my island country of Japan. The following chart shows the temperature anomaly for November mean temperature for the past 16 years, a period that Dr. Kevin Trenberth says is long enough to start talking about a trend:
Data source: JMA
The mean temperature for autumn (Sep-Oct-Nov) in Japan over the past 21 years is also showing a modest downward trend:
Data: JMA
In the northern city of Sapporo in the Hokkaido Prefecture, the November mean temperature has shown no trend in 31 years:
Sapporo (Hokkaido Prefecture) Data: JMA.
My home city of Tokyo also has not seen any warming for November over the past 30 years, despite media always declaring that the planet is warming more rapidly. The following data show a flat trend: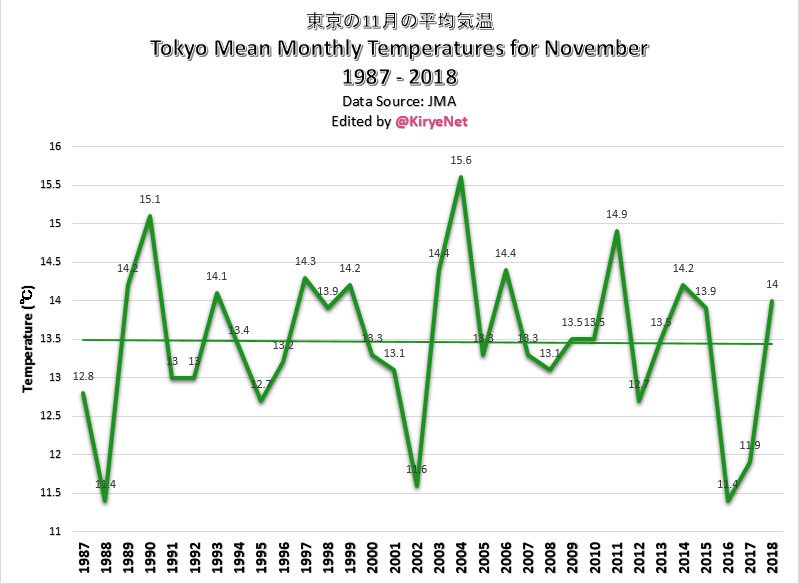 Tokyo mean November temperature have been flat for more than 30 years. Data: JMA.
Going all the way to other, southern end of Japan, in the tropics, we also find no warming – but instead some cooling for the November mean temperature:
Data: here.
By now some warmist readers may be asking to see the mean annual temperature trend for all of Japan over the past 2 decades, which I present to you here:
Data source JMA.
The above chart shows only a very modest warming since 1997, a period where the public has been only hearing and seeing headlines of rapid warming. But as the trend shows, the warming is statistically negligible, and is likely due to the natural natural El Nino event of 2016.
To summarize, Japanese citizens can say 'sayonara' to all the scary warming they were told to worry about over the past 2 decades. Nothing unusual has happened, or is happening.